Courageous Home Care will remain open and continue services for all our members. We have extended our office hours through this hard time Monday - Friday 8:00 am to 6:30 pm and Saturday 8:30 am to 5:30 pm. Our number one goal is to keep our members and staff safe, So please remember to wash your hands consistently.
Welcome to Courageous Home Care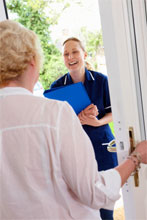 Courageous Home Care is a Personal Support Provider with over 30 years of experience in the Personal Support Industry. We bring that experience to the decisions made for staffing, payroll, and employment benefits.
Courageous Home Care is an HFR (Healthcare Facility Regulation) licensed provider of the ICWP (Independent Care Waivered Program), CCSP (Community Care Services Program), and SOURCE (Service Options Utilizing Resources in Community Environments) programs. We also provide services for Private Pay and Insurance clients.